Here it comes kids….its Ryan with the AM Skate.
It's Hockey Day in Canada!! Full coverage starts on NHL Network & CBC begins at Noon ET.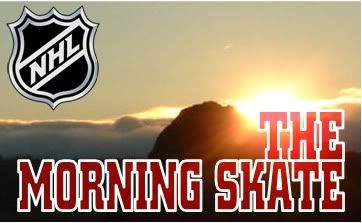 The Morning After:
Last night's scores:
Capitals 4, Panthers 1
Devils 5, Maple Leafs 4 (OT)
Sabres 2, Bruins 1
Ducks 2, Lightning 1 (SO)
Red Wings 4, Predators 2
Stars 3, Avalanche 2
Predictions record: 6-0
My 3 stars from last night:
1. Zach Parise, NJ (2 Goals, 2 Assists)
Parise was everywhere for the Devils, tallying 4 points and 9 shots.
2. Mike Knuble, WSH (2 Goals, 1 Assist)
Knuble's 3 points were key for the Caps in downing Florida.
3. Jimmy Howard, DET (46 Saves, 2 GA)
Howard was rock-solid for the Wings in their crucial win over Nashville.
Honorable Mention: M. Modano, R. Miller, T. Zajac, N. Backstrom, J. Wisniewski, D. Miller, A. Ponikarovsky
Dud of the Night:
Mike Green's elbow… Green delivered one of the biggest cheap-shots of the season last night as he blatently elbowed Florida's Michael Frolik in the head. He only received a 2-minute minor on the play. If Colin Campbell doesn't suspend him, he shouldn't be handing out suspensions anymore. Unnecessary and dirty play from Green…
—
Today's Slate:
Islanders @ Flyers, 1:00 ET
Canadiens @ Senators, 2:00
Kings @ Bruins, 7:00
Canucks @ Maple Leafs, 7:00
Blackhawks @ Hurricanes, 7:00
Blue Jackets @ Blues, 8:00
Thrashers @ Predators, 8:00
Rangers @ Coyotes, 8:00
Oilers @ Flames, 10:00
Wild @ Sharks, 10:30
Games of the Day:
Montreal Canadiens @ Ottawa Senators
2:00 ET… TV: CBC, NHL Net. (US)
Records:
Overall: Canadiens (25-25-5) … Senators (30-21-4)
Last Ten: Canadiens (4-4-2) … Senators (8-2-0)
Away/Home: Canadiens (13-14-1) … Senators (19-8-3)
Season Series: 3-1 Senators
Players to watch:
MTL- Andrei Markov
Markov has struggled since his hot streak after returning from injury.
OTT- Daniel Alfredsson
'Alfie' is on a 4-game point streak, and burned the Habs in the last time they met.
Projected Goaltenders:
MTL- Jaroslav Halak (09/10 stats: 14-8-1, 2.43 GAA)
OTT- Brian Elliott (09/10 stats: 16-11-3, 2.52 GAA)
Injury Report:
MTL- Jaroslav Spacek (flu, out), Paul Mara (upper body, out), Andrei Kostitsyn (knee, out)
OTT- Pascal Leclaire (concussion, out), Jesse Winchester (knee, out)
Game Thoughts:
'Hockey Day in Canada' kicks off with the Sens and Habs! Ottawa will look to extend their winning streak to a franchise-record 9 games. Montreal is coming off a tough Florida swing, and is looking to rebound well. I expect to see a low-scoring, and chippy game, with the Senators coming out on top.
Prediction: Senators 3, Canadiens 2
—
Vancouver Canucks @ Toronto Maple Leafs
7:00 ET… TV: CBC, NHL Net. (US)
Records:
Overall: Canucks (33-18-2) … Maple Leafs (17-27-11)
Last Ten: Canucks (7-2-1) … Maple Leafs (2-6-2)
Away/Home: Canucks (10-11-1) … Maple Leafs (9-11-5)
Season Series: 1-0 Canucks
Players to watch:
VAN- Alex Burrows
Burrows had his 12-game point streak snapped Wednesday; look for him to get back on track tonight.
TOR- Alexei Ponikarovsky
He's been a key player for them lately, and is coming off a pair of 2-point performances.
Projected Goaltenders:
VAN- Roberto Luongo (09/10 stats: 29-14-2, 2.26 GAA)
TOR- Vesa Toskala (09/10 stats: 7-11-3, 3.64 GAA)
Injury Report:
VAN- Willie Mitchell (concussion, out), Kevin Bieksa (ankle, out), Sami Salo (groin, questionable), Michael Grabner (ankle, out)
TOR- Mike Komisarek (shoulder, questionable), Mikhail Grabovski (wrist, out), Mike Van Ryn (knee, out)
Game Thoughts:
Vancouver begins its historic 14-game road trip tonight in Toronto. They won this game last year, when Mats Sundin returned and scored the shootout winner. The Canucks are one of the hotter teams in the league; very few have been able to solve their top line. With the Leafs coming off a hard-fought game last night, I like the Canucks to keep up their recent success.
Prediction: Canucks 4, Maple Leafs 2
—
Edmonton Oilers @ Calgary Flames
10:00 ET… TV: CBC, NHL Net. (US)
Records:
Overall: Oilers (16-30-6) … Flames (26-20-8)
Last Ten: Oilers (0-8-2) … Flames (1-6-3)
Away/Home: Oilers (7-14-2) … Flames (12-12-3)
Season Series: 5-0 Flames
Players to watch:
EDM- Dustin Penner
For the Oilers, it would help if Penner would find his early-season success.
CGY- Jarome Iginla
'Iggy' has been playing better in the last couple games, and could be due for a breakout game tonight.
Projected Goaltenders:
EDM- Jeff Deslauriers (09/10 stats: 9-16-3, 3.17 GAA)
CGY- Miikka Kiprusoff (09/10 stats: 23-16-8, 2.125 GAA)
Injury Report:
EDM- Ladislav Smid (concussion, doubtful), Ales Hemsky (shoulder, out), Nikolai Khabibulin (back, out), Steve Staios (concussion, out) Ryan Stone (knee, out)
CGY- David Moss (shoulder, out), Craig Conroy (knee, questionable), Nigel Dawes (leg, questionable)
Game Thoughts:
One of these two teams WILL win this game! Edmonton is winless in 2010, and the Flames have dropped 9 straight. Brent Sutter's club has played better this week, which is why I think they'll win. But don't sleep on the Oilers, who would love to finally beat these guys this season.
Prediction: Flames 3, Oilers 1
The rest of tonight's predictions:
Flyers over Islanders
Kings over Bruins
Hurricanes over Blackhawks
Blues over Blue Jackets
Thrashers over Predators
Coyotes over Rangers
Sharks over Wild
You can follow the Red Light District on Twitter @RLDhockey!