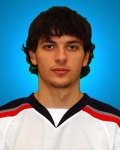 Anisimov (HFD)…should he be in the NHL?
Some say it is still too soon but how long will it be before Artem Anisimov is on the New York Rangers roster for good?
The 20 year old from Russia has breathed fresh life into Hartford this year and is scoring right around a point a game for the talented Wolf Pack team. In 65 games played, he has 27 goals and 39 assists which is good for 66 points. He has even made Pierre Parenteau a better player. Parenteau leads the team with 69 points.

There are nights where he is just a man amongst boys in the AHL. Thanks to various online sites I have been fortunate enough to catch Anisimov at his finest. MSGOnline has a very nice video from his younger days in late, 2007. Time to roll the nice ISO footage of this prospect.

http://www.youtube.com/watch?v=ztiGFMZ4Leg&hl=en&fs=1


At Traverse City…

Ultimately, the first thing you notice about Anisimov is his on-ice vision. He sees the whole ice and not just in compartmentalized sections. Too many players that are eventually labeled "tweeners" can do this great in the minors but when it comes to the NHL….they just crack. Anisimov is not like that. As a matter of fact, it is now to the point where he NEEDS the faster pace of the NHL. He has had nearly two seasons with Hartford under his belt. Clearly, he is now ready for the next challenge.
The only obvious problem is the Rangers are in the middle of a fierce battle for their collective playoff lives. Sitting ninth in the conference at this moment may be cause for the team to let Anisimov make the team out of camp next season. At the very least, he should get some playoff experience if the Wolf Pack hold on. They are second in their division right now.
Some however feel that Anisimov is just being wasted down in Hartford…a lot like Bobby Sanguinetti. The Rangers desperately need scoring. Just think Anisimov has more goals in Hartford than anyone does in New York. Sure there is a marked difference between the AHL and NHL but the skill set and potential is there for this talented Russian. The question becomes when do the Rangers give him a true shot with the big boys?
My take is why not give him the shot now. It is crunch time. No time like the present to see what the man is made of. Because in a hockey sense, Anisimov has grown immensely from 2007 and is the type of player the Rangers sorely need right this minute!