It's the last day of 2009….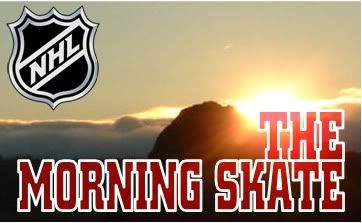 The Morning After:
Last night's scores:
Flyers 6, Rangers 0
Devils 2, Penguins 0
Canadiens 2, Lightning 1 (OT)
Bruins 4, Thrashers 0
Avalanche 4, Senators 3
Oilers 3, Maple Leafs 1
Flames 2, Kings 1
Sharks 5, Capitals 2
Predictions record: 7-1
My 3 stars from last night:
1. Martin Brodeur, NJ (32 Saves, Shutout)
Brodeur picked up his 2nd shutout in as many weeks against Pittsburgh.
2. Simon Gagne, PHI (3 Goals, 1 Assist)
In his 6th game back from injury, Gagne netted a huge hat trick against the Rangers.
3. Joe Pavelski, SJ (2 Goals)
'Joe Pa' made a statement for his inclusion on Team USA with a pair of goals.
Honorable Mention: C. Price, T. Rask, P. O'Sullivan, M. Leighton, R. Bourque, M. Kiprusoff
Dud of the Night:
New York Rangers… Philly waltzed in and out of MSG with an easy 6-0 win over the Blueshirts. After Claude Giroux put the Flyers up 3-0, John Tortorella took a timeout and chewed out his team; it obviously didn't work. It looked like everything was going in the right direction for the Rangers… but last night was a step back.
—
Tonight's Slate:
Canadiens @ Panthers, 5:00 ET
Islanders @ Senators, 7:00
Avalanche @ Red Wings, 7:00
Predators @ Blue Jackets, 7:00
Canucks @ Blues, 7:00
Sharks @ Coyotes, 7:00
Rangers @ Hurricanes, 8:00
Kings @ Wild, 8:00
Ducks @ Stars, 8:00
Devils @ Blackhawks, 8:30
Oilers @ Flames, 9:00
Games of the Night:
San Jose Sharks @ Phoenix Coyotes
7:00 ET… TV: Local Networks
Records:
Overall: Sharks (25-8-7) … Coyotes (25-13-3)
Last Ten: Sharks (6-2-2) … Coyotes (7-2-1)
Away/Home: Sharks (13-6-2) … Coyotes (16-5-0)
Season Series: 2-0-1 Coyotes
Players to watch:
SJ- Joe Thornton
Thornton has struggled against Phoenix this year… will that change tonight?
PHX- Scottie Upshall
Upshall has come up big for the 'Yotes recently with 8 points in the last 6 games.
Projected Goaltenders:
SJ- Thomas Greiss (09/10 stats: 3-3-0, 2.79 GAA)
PHX- Ilya Bryzgalov (09/10 stats: 22-10-3, 2.01 GAA)
Injury Report:
SJ- Brad Staubitz (face, out), Jody Shelley (soreness, out)
PHX- Vernon Fiddler (lower body, doubtful), Jim Vandermeer (upper body, questionable), Danniel Winnik (arm, out), Kurt Sauer (headaches, out)
Game Thoughts:
These two faced off in San Jose on Monday, with the Sharks coming out on top via the shootout. After beating the Caps last night, Todd McLellan's gang will have to make the trip to the desert in less than 24 hours. That's a tough rebound, especially against a team that has won ten straight in their own barn. Look for Bryzgalov and his 1.60 home GAA to come through in the end.
Prediction: Coyotes 3, Sharks 2
—
New Jersey Devils @ Chicago Blackhawks
8:30 ET… TV: Local Networks
Records:
Overall: Devils (28-9-1) … Blackhawks (26-10-3)
Last Ten: Devils (8-2-0) … Blackhawks (7-3-0)
Away/Home: Devils (13-3-1) … Blackhawks (17-4-1)
Season Series: First meeting
Players to watch:
NJ- Brian Rolston
Rolston is familiar with the 'Hawks, and recently had a 5-game point streak.
CHI- Patrick Kane
'Kaner' has been electric lately, tallying 10 points in the last 5 games.
Projected Goaltenders:
NJ- Martin Brodeur (Last night vs. PIT: 32 saves, 0 GA)
CHI- Cristobal Huet (09/10 stats: 17-8-2, 2.13 GAA)
Injury Report:
NJ- Bryce Salvador (lower body, doubtful), David Clarkson (undisclosed, questionable), Paul Martin (arm, out), Dainius Zubrus (knee, out), P.L. Letorneau-Leblond (upper body, out)
CHI- Dave Bolland (back, out), Adam Burish (knee, out)
Game Thoughts:
This makes it two straight nights where we've had a potential Stanley Cup preview! The Devils make the trip to Chicago after shutting out the Pens last night. Joel Quenneville's club has been dynamite at home this year, and is firing on all cylinders. This will a great game, and I think the 'Hawks get to Brodeur.
Prediction: Blackhawks 4, Devils 2
The rest of tonight's predictions:
Panthers over Canadiens
Senators over Islanders
Red Wings over Avalanche
Predators over Blue Jackets
Canucks over Blues
Hurricanes over Rangers
Wild over Kings
Ducks over Stars
Flames over Oilers
You can follow the Red Light District on Twitter @RLDhockey!