Its too windy and rainy to get consistent power and internet but Ryan bailed us out….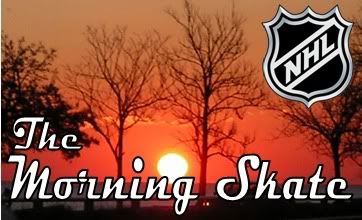 The Morning After:
Yesterday's scores:
Devils 3, Penguins 1
Lightning 3, Capitals 2
Wild 3, Sabres 2
Rangers 5, Thrashers 2
Kings 2, Stars 1 (SO)
Predators 1, Ducks 0
Predictions record: 4-2
My 3 stars from last night:
1. Pekka Rinne, NSH (31 Saves, Shutout)
'Peks' delivered a big shutout for the Preds a night after their 3rd period collapse.
2. Jonathan Bernier, LA (29 Saves, 1 GA)
Bernier's first start of the season was a good one, lifting the Kings to victory in Quick's absence.
3. Vaclav Prospal, NYR (2 Goals, 1 Assist)
Prospal's 3 points helped the Rangers run away from Atlanta.
—
Today's Slate:
Blackhawks @ Flyers, 1:00 ET
Panthers @ Sharks, 4:00
Oilers @ Maple Leafs, 7:00
Bruins @ Canadiens, 7:00
Devils @ Islanders, 7:00
Coyotes @ Hurricanes, 7:00
Sabres @ Red Wings, 7:00
Blues @ Blue Jackets, 7:00
Senators @ Canucks, 10:00

Games of the Day:
Chicago Blackhawks @ Philadelphia Flyers
1:00 ET… TV: Local Networks
Records:
Overall: Blackhawks (44-17-5) … Flyers (35-27-4)
Last Ten: Blackhawks (7-2-1) … Flyers (7-2-1)
Away/Home: Blackhawks (18-10-3) … Flyers (20-12-2)
Season Series: First meeting
Players to watch:
CHI- Patrick Kane
He's on a 9-game point streak, and had 2 assists vs. Philly last year.
PHI- Jeff Carter
Carter has scored on a goal in 9 of the last 10 games.
Projected Goaltenders:
CHI- Cristobal Huet (09/10 stats: 26-12-4, 2.38 GAA)
PHI- Michael Leighton (09/10 stats: 16-8-2, 2.80 GAA)
Injury Report:
CHI- None
PHI- Ray Emery (hip, out)
Game Thoughts:
Chicago and Philly square off for a matinee dandy featuring two of the league's best offensive teams. The Flyers have been hit and miss since the break, while the 'Hawks are coming off a big overtime win over L.A. If Niemi gets the start, it could pay dividends since he's been so good on the road. But I think I like Philly here… the game means more to them.
Prediction: Flyers 4, Blackhawks 2
—
Boston Bruins @ Montreal Canadiens
7:00 ET… TV: CBC, NHL Net. (US), Local Networks
Records:
Overall: Bruins (30-24-12) … Canadiens (34-29-6)
Last Ten: Bruins (7-2-1) … Canadiens (6-4-0)
Away/Home: Bruins (16-11-6) … Canadiens (17-13-4)
Season Series: 4-1 Canadiens
Players to watch:
BOS- Patrice Bergeron
With Savard out, Bergeron has stepped up with 5 points in 2 games.
MTL- Scott Gomez
Gomez is starting to play better, and recently had a 4-game point streak.
Projected Goaltenders:
BOS- Tuukka Rask (09/10 stats: 15-8-4, 2.11 GAA)
MTL- Jaroslav Halak (09/10 stats: 21-10-2, 2.54 GAA)
Injury Report:
BOS- Marc Savard (concussion, out), Miroslav Satan and Andrew Ference (groin, questionable)
MTL- Mike Cammalleri and Marc-Andre Bergeron (knee, out)
Game Thoughts:
The best rivalry in the league renews tonight in Montreal! The Habs have been terrific since the break, flying out to a 5-1 record. Boston has been inconsistent recently, and has dropped 4 of 5 meetings to Montreal this year. Can Jacques Martin's gang keep up their recent success? I think they will, but Boston will make it very interesting…
Prediction: Canadiens 3, Bruins 2
—
Ottawa Senators @ Vancouver Canucks
10:00 ET… TV: CBC
Records:
Overall: Senators (37-26-5) … Canucks (41-23-3)
Last Ten: Senators (4-5-1) … Canucks (6-3-1)
Away/Home: Senators (14-17-1) … Canucks (23-7-1)
Season Series: 1-0 Senators
Players to watch:
OTT- Jason Spezza
Spezza has gone 5 games without a goal… he's due!
VAN- Mikael Samuelsson
He's on a big 5-game point streak, but hasn't fared well vs. Ottawa in his career.
Projected Goaltenders:
OTT- Pascal Leclaire (09/10 stats: 11-11-2, 3.00 GAA)
VAN- Roberto Luongo (09/10 stats: 34-18-2, 2.46 GAA)
Injury Report:
OTT- Filip Kuba and Chris Kelly (lower body, questionable), Nick Foligno (leg, out), Chris Campoli (knee, out)
VAN- Willie Mitchell (concussion, out), Kevin Bieksa (ankle, out), Steve Bernia (hernia, out)
Game Thoughts:
After going 8-5-1 on the league-record road trip, the Canucks return home to take on country counterpart Ottawa. Cory Clouston's Sens will finish their west coast swing tonight. After such a long trip, the Canucks could have a letdown at home. With that being said, I think they'll pick up the win and extend their division lead.
Prediction: Canucks 3, Senators 2 (SO)
The rest of tonight's predictions:
Sharks over Panthers
Maple Leafs over Oilers
Devils over Islanders
Hurricanes over Coyotes
Red Wings over Sabres
Blues over Blue Jackets
You can follow the Red Light District on Twitter @RLDhockey!
Don't forget about our radio show at 1:00 ET this Tuesday!