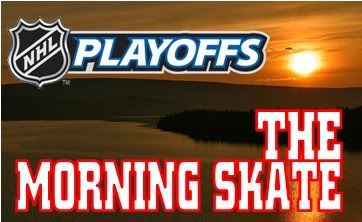 The Morning After:
My 3 stars from last night:
1. Nicklas Lidstrom (2 goals, 1 assist)
Detroit's captain came up huge as he was involved in all 3 goals, including scoring the game-winner with 50 seconds left.
2. Marc Savard (2 goals)
Savard scored 2 big goals in Boston's win over Carolina.
3. Chris Osgood (22 saves)
I felt Ozzie held his ground in net, and made some good saves in the 3rd.
Best atmosphere: Detroit
The Joe was nuts from the get-go…
'RLD Game-Changing Performance' of the night:
Nicklas Lidstrom… Lidstrom made a very good play in stepping into the slot to rip a shot on Hiller, then sticking home his own rebound to put the Wings up 3-2 with 50 seconds left. Hiller basically gave him the 5-hole, but credit Lidstrom for taking advantage of that late in the game.
—
Tonight's Slate:
Penguins @ Capitals, Game 1, 1:00 ET
Blackhawks @ Canucks, Game 2, 9:00
Game of the Night:
4) Pittsburgh Penguins @ 2) Washington Capitals
Game 1, 1:00 ET… TV: NBC, CBC, Local Networks
Players to watch:
PIT- Chris Kunitz
I've been told he's going to have a big series.
WSH- Mike Green
He's gotta step up on the man advantage.
Starting Goaltenders:
PIT- Marc-Andre Fleury (Playoff stats: 4-2, 2.39 GAA)
WSH- Simeon Varlamov (Playoff stats: 4-2, 1.17 GAA)
Injury Report:
PIT- Mike Zigomanis (undisclosed, out)
WSH- Donald Brashear (suspended), Jeff Schultz (upper body, doubtful), Quintin Laing (spleen, out), Brent Johnson (hip, out)
Game Thoughts:
Let's hope this game doesn't go to double OT so it doesn't get shifted to Versus… NBC and their precious pre-pre-Kentucky Derby show! The Caps should have the momentum after winning 3 straight to beat the Rangers. But I like Pittsburgh to go on the road and win today behind Fleury & Malkin.
Prediction: Penguins 3, Capitals 2
—-
4) Chicago Blackhawks @ 3) Vancouver Canucks
Game 2, 9:00 ET… TV: VERSUS, CBC, Local Networks
Players to watch:
CHI- Patrick Kane
Kane was big in the 3rd period of Game 1… he needs to carry that over tonight.
VAN- Alex Burrows
Look for him to play with an edge tonight and force some penalties.
Starting Goaltenders:
CHI- Nikolai Khabibulin (Playoff stats: 4-3, 2.74 GAA)
VAN- Roberto Luongo (Playoff stats: 5-0, 1.50 GAA)
Injury Report:
CHI- Brent Sopel (elbow, out)
VAN- Taylor Pyatt (personal, doubtful)
Game Thoughts:
This one can literally go either way. Chicago can either take a positive out of their comeback, or a negative. I expect both goaltenders to play better, with Luongo and Vancouver taking a 2-0 series lead. Expect the tempers to ramp up tonight…
Prediction: Canucks 3, Blackhawks 1
For predictions and analysis like this all playoffs long, stop by the Red Light District.